Home
Clothing Patterns
Books
Cross Stitch
Kits
Cross Stitch
Charts
Gift Certificates
Ready-mades
Clothing Kits
Customer
Comments
Learn More!
Ordering
Terms
FAQs
Goals & History
Research & Consulting
Events
Contact Us
Links
Model Theater
Division
New!
Model Figures
and Dioramas
Why the Rooster?
Privacy Policy
All illustrations, text and designs contained in this site are © Copyright 1982-2012 Kannik's Korner, or its licensors.
All rights are reserved, and none may be used without prior written permission.
Living History Events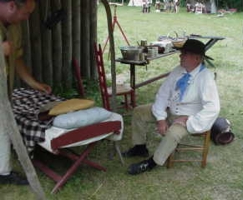 During the spring, summer and fall, living history events now abound! Our favorite time periods are the 1750s through 1820. Events which represent these periods range from French and Indian War or Seven Years War, American Revolutionary War or War of Independence, War of 1812, and Napoleonic Wars. Of course not ALL events represent a war! The concentration on war events is because living history really bloomed when the United States celebrated our bi-centennial. Major living history groups formed then and have evolved, and most of these groups now have civilian divisions and interpretations. There are many civilian events cropping up at museums sites across the country, as well.

One of the best known is the Fair at New Boston, held each Labor Day Weekend at George Rogers Clark Park, just west of Springfield, Ohio. This event is a 1790-1810 trade fair, and is sponsored by the George Rogers Clark Heritage Association, an all volunteer organization. This association also sponsors a spring event and plant sale in May, and a fall event in October. See their web site for event listings.

Kannik's Korner patterns are available from merchants at these shows, and we may be set up and demonstrating sewing at some!

Some of the shows we know about, are listed below. For more information and confirmation of the show dates, times and admission price please contact the sponsor directly.

Disclaimer: We have no authority over these shows, and only list them for the benefit of our web site visitors and customers.
We assume no responsibility, or liability, for the business practices, or products, of companies or organizations involved with these shows, either directly or indirectly. We recommend that you inquire with each company as to their policies prior to doing business with them, and/or to the by-laws, practices, safety regulations and membership requirements prior to joining them.
Please check "Smoke and Fire News" for calendars of events.
Visit Smoke and Fire News for info and subscriptions.
---
The Fair at New Boston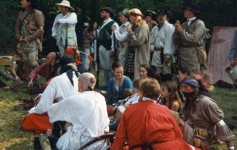 A 1790-1810 Trade Fair
with military sides of the War of 1812 era
Labor Day Weekend - Saturday and Sunday only
Hours: 10 AM - 6 PM
This is one of the best shows in the country! A MUST SEE!
Allow plenty of time to enjoy all the sights and shows. Rain or Shine!
This is a two day show - not open on Monday.
Some of the best historical artisans sell their wares here,
so come prepared to shop for reproduction items
for your home or historical site.
George Rogers Clark Park, Springfield, Ohio
For Ticket information click here.
Sponsored by:
George Rogers Clark Heritage Association

---
Visit an Indoor Living History Trade Show
Attend Symposia and Conferences Living History
Participate in a Workshop