All artwork and content of this site are © Copyright 2003-2010 Kannik's Korner and its licensors.
All rights reserved.

Figure Sheets - Large Oldfux

Figure Sheets - Large Priors

Figure Sheets - Small
Figure Sheets - Large Priors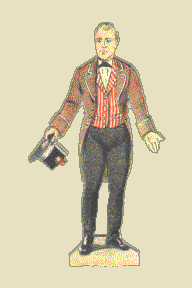 Large Figures are appropriate for Large (C size) theaters.
The P numbers are the Priors numbers, followed by a brief description. AJ stands for Alfred Jacobsen, and his original sheet number.
Large Figures average 4-1/2 inches tall.
Please use the current "P-xxx" number when inquiring about sheets!

Above/Left: Figure of Henry, who flips to turn into a Monkey. From "More Than Pearls and Gold", sheet P-181.

Prices:
Most figure sheets are $4.50 each.
Others are priced as marked.
---

Please note that item numbers which are followed by the letter "R" are "Rare". In other words, they are in limited availability, and therefore may be priced much higher than other sheets.

---


P-003 Captain Grants Children 1
AJ, sheet 3

P-010 Captain Grants Children 2
AJ, sheet 10

P-021 Capt. Grant/Pipi & Titi
AJ, sheet 21

---


P-025 Tordenskjold at
Marstrand
AJ, sheet 25

P-028 More than Pearls and Gold
AJ, sheet 28

P-031 Robbers
AJ, sheet 31

---


New! P-034/042 Around the World in 80 Days Set
AJ, sheet 34 and 42
$10.00 per set

---


P-040 On the Bottom of
the Sea
Also includes figures for "Lighthouse on Föhr Island"
AJ, sheet 40

P-036 Sultan's Adventure
AJ, sheet 36

P-038 Orfeus in the Underworld
AJ, sheet 38

---


New! P-057 Czar's Courier
These are part of the figures for the play based on Jules Verne's story, often referred
to by the character's name, Michael Strogoff.
AJ, sheet 57
$8.00

---


P-616 Harlequin & Columbine
printed on cardboard,
ready to cut out
$7.00 each

P-065 Festival in Tivoli
AJ, sheet 65

P-069 Hocus Pocus
AJ, sheet 69

---


P-070 Slippers & Grenadiers
Row 1: A Pair of Slippers
Row 2: The Grenadiers,
plus sailor and polar bear
AJ, sheet 70

P-107 Home, Arabic Powder, Traveling to China
AJ, sheet 107

P-113 With Sankelmark
1860s figures from a Danish-German battle
AJ, sheet 113

---


P-123 Merry Christmas, Betrayed, Runaway
AJ, sheet 123

P-125 Devil's Daughter
AJ, sheet 125


P-199 Columbus
AJ, sheet199

---

P-181-R More Than Pearls and Gold
Alfred Jacobsen, sheet 181
$14.00 each


P-1108-R The Enchanted Princess
AJ, sheet 1108
$14.00 each

---

P-1116 and P-1117 The Little Horn Blower
Figures from c. 1845
AJ, sheets 1116 and 1117
$9.00 for set

---


P-1126-R Genboerne & Arabic Powder
Rows 1-3: Genboerne [Opposite Neighbors]
Row 4: The Arabic Powder
Alfred Jacobsen, sheet 1126
SOLD

P-1126 Genboerne
Rows 1-3: Genboerne [Opposite Neighbors]
Missing 4th row of figures
Alfred Jacobsen, sheet 1126
$12.00

---


P-1125 Valdemar Sejr
AJ, sheet 1125

P-1146 Tinderbox Dogs
AJ, sheet 1146


P-1130 Cinderella
plus other figures, AJ, sheet 1130

---


P-1133 Capriciosa
AJ, sheet 1133

P-1145 The Swineherd
AJ, sheet 1145

---


New! P-1134 Last of the Mohicans
$4.50

New! P-1063a-C
Pathfinder Figures 1
(Color Laser Print)
$4.00 each

New! P-1063b-C
Pathfinder Figures 2
(Color Laser Print)
$4.00 each

---


P-1132/1132A
Phileas Fogg & Friends
from Around the
World in 80 Days
AJ, sheet 1132
$4.50 each

P-1135 Indians
from Around the
World in 80 Days and
The Last of the Mohicans
AJ, sheet 1135
$3.00 each


P-1136 The Arabic Powder
AJ, sheet 1136
$3.00 each

---


P-1141 Gjøngehøvdingen
[Chief of the Gønger]
AJ, sheet 1141

P-1142 Battle of Copenhagen, 1659
from Gjøngehøvdingen

P-1070 Gjøngehøvdingen
[Chief of the Gønger]
AJ, sheet 1070

---


P-1140 The King's Sentence
AJ, sheet 1140
$2.00 each

P-1143 Little Puk
AJ, sheet 1143
$3.00 each

P-1144 Smugglers
AJ, sheet 1144
$3.00 each

---

P-608 Enchanted Princess
Princess, wizard, knight, cherub, owl, mermaids, dragon, cauldron and other fantasy figures
Click image for sample figure!
$4.50 each

P-612 Svend the Daredevil
18th c. figures, devilish figures, dragons
Click image for sample figure!
$4.50 each

P-620 Traveling Companion
after Hans C. Anderson's story -
18th c. common folk figures, Princess, King, Herold, troll, gallows.
Click image for sample figure!
$4.50 each

---