Priors Sheets

Use the links above to each category of sheets.

Many of the Alfred Jacobsen's sheets are still sold through the descendant company, Priors Dukketeater, in Denmark. For many years their delightful shop was located near the Round Tower in Copenhagen, but the walk-in shop has permanently closed. We are fortunate to be able to offer some of these sheets, and complete plays, for sale through our secure on-line shopping cart.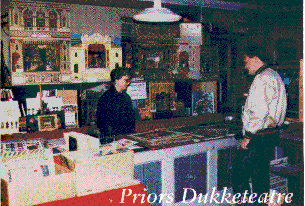 Please enjoy browsing through the catalog of sheets! They are really inspiring for beginning or expert toy theater enthusiasts!
Left: View of the former Priors shop